Window Coverings - Maintenance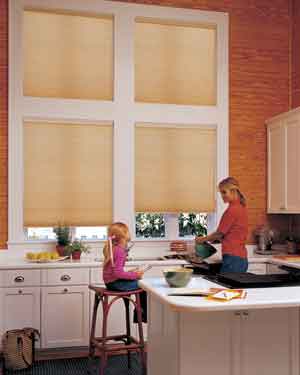 Hunter Douglas
Style: Applause honeycomb shades
Maintenance
Water, solvents or abrasive cleaners should not be used on wood blinds or shutters.
The best way to remove dust or debris from hard to reach areas on honeycomb, window shades and shadings is by using a hair dryer on a cool setting or compressed air purchased from an office supply store.
Bathtub cleaning or water immersion, ultrasonic cleaning, injection or extraction cleaning and steam cleaning are all specialized professional cleaning treatments. Power washing is not.
Many aluminum and vertical vinyl blinds are specially treated to guard against static electricity and dust. If not, the slats can be wiped with anti-static dryer sheets.
It is best to clean alternative wood blinds and shutters with a soft damp cloth.